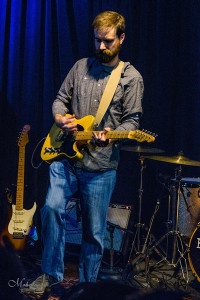 Kyle Bryant of Longview Drive has been playing guitar since the age of 12 and has been in numerous different bands to date, playing in all types of genres including country, blues, punk, improvisational rock and metal. Currently, Kyle plays lead guitar in the Decatur based roots-rock/jam band, The Bitteroots.
The Bitteroots can be found playing all over the southeast but mostly here in Atlanta; with recent shows at The Atlanta Dogwood Festival and Smith's Olde Bar. They have shared the stage with a range of artists from Col. Bruce Hampton to Butch Trucks of the Allman Brothers. This month The Bitteroots will be playing their 8th anniversary show at Eddie's Attic in Decatur on May 14th. GÖdel

As a former Music Composition major Kyle enjoys all things music; listening, playing, writing and teaching. Sharing his love of music is something Kyle enjoys in his non 9-5, teaching different instruments for several years. Kyle would appreciate seeing Huntley Hills residents at his next show or a show in the future. Keep up to date on future shows by going to The Bitteroots website or by following them on social media. If you are interested in lessons feel free to email Kyle at [email protected].
Now enjoy some of their music: