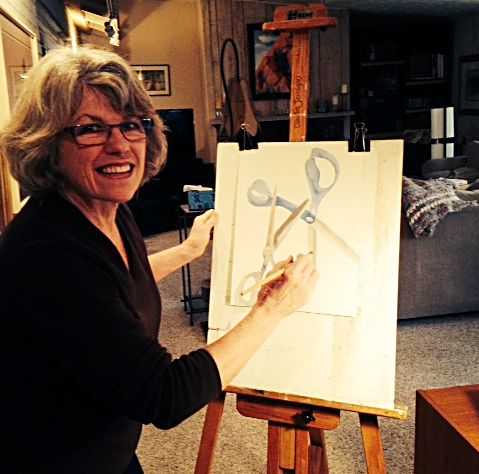 Claudia Jernigan has lived in Huntley Hills over half her life but the first part was spent moving every threeyears. Her Air Force family lived in several states but two tours in England at age 6 and 13 were the most interesting artistically. Art was part of the British early school curriculum then she later mastered calligraphy and loved it. She finally landed in Georgia and took on the challenge of watercolor and graphic design too.
Now working out of her home studio, she's been drawing, painting and exhibiting for several years, taking on whatever rewarding commissions and fun creative work comes her way.
Claudia has customers all over, including in the HH hood, who own her creations – and says anyone is free to call or contact her to check out her art, ask questions or just to say hi.
[ngg_images source="galleries" container_ids="15″ display_type="photocrati-nextgen_basic_thumbnails" override_thumbnail_settings="0″ thumbnail_width="120″ thumbnail_height="90″ thumbnail_crop="1″ images_per_page="20″ number_of_columns="0″ ajax_pagination="0″ show_all_in_lightbox="0″ use_imagebrowser_effect="0″ show_slideshow_link="1″ slideshow_link_text="[Show slideshow]" template="/home/nvuois/huntleyhills.net/wp-content/plugins/nextgen-gallery/products/photocrati_nextgen/modules/ngglegacy/view/gallery-caption.php" order_by="sortorder" order_direction="ASC" returns="included" maximum_entity_count="500″]
See more of Claudia's art at cwjjart.wix.com/cwjerniganart. Text or call her at 404.372.4127.