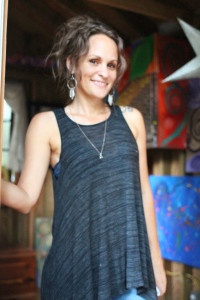 Bobbie Flowers has been a Huntley Hills resident since 2012. Her passion for art began eight years ago during a tumultuous time in her life, and through it she found healing, a place to channel her energy and a peaceful mind. She has explored mediums from acrylic paint, to wax, to furniture projects. Her love of being outdoors and in nature has inspired some of her latest work as she is bringing elements in from the outdoors to decorate her home.
Bobbie originally hails from the Mojave Desert. She landed in the south over twenty years ago. She is the mother of two: Skylar, a freshman at Chamblee Charter High School, and Elias, a senior at Lumpkin County High School. When asked what inspires her – " Trees, Nature Connection, and believing in the Earth Spirit."
If you would like Bobbie to custom design a piece for your home, contact her at [email protected] Pieces such as custom-made dream trees and window valences can be custom cut to suit your home and personal style.
[ngg_images source="galleries" container_ids="30″ display_type="photocrati-nextgen_basic_thumbnails" override_thumbnail_settings="0″ thumbnail_width="120″ thumbnail_height="90″ thumbnail_crop="1″ images_per_page="20″ number_of_columns="0″ ajax_pagination="0″ show_all_in_lightbox="0″ use_imagebrowser_effect="0″ show_slideshow_link="1″ slideshow_link_text="[Show slideshow]" template="/home/nvuois/huntleyhills.net/wp-content/plugins/nextgen-gallery/products/photocrati_nextgen/modules/ngglegacy/view/gallery-caption.php" order_by="sortorder" order_direction="ASC" returns="included" maximum_entity_count="500″]