Teneisha R.S. Jones has been crafting, creating and designing for most of her life. She is interested in a wide range of arts and has been featured in gallery shows with a focus on Printmaking, Plush Toy making, Puppets and Product Design. She also has been known to create small illustrated books, quilts, crochet and embroidery.
Additionally, Teneisha has loved reading and writing for most of her life and became interested in writing for children after becoming a mother. She can now add "Author" to her list of creative accomplishments with the recent release of Zoo of Emotions, a rhyming book for children about emotions. See it at http://tinyurl.com/ZooOfEmotions.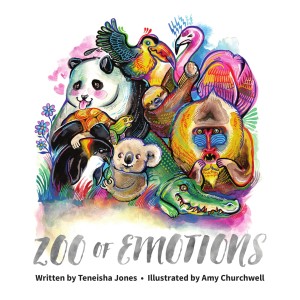 Teneisha graduated from Massachusetts College of Art and Design in Boston MA in 2006 with a BFA in Industrial Design and a personal focus in Printmaking. She now lives in Huntley Hills with her husband, two daughters, two loud cats, and an incredibly lazy Chihuahua.
Her website is separated into Plush Toy Design, the book, Print Making, Product Design, Needle Arts and Illustration. A few examples are in the slideshow below.
You can reach Teneisha at
Teneisha.by.design@gmail.com
.